The History of SINISTER FLESH
Shot as a silent film, SINISTER FLESH marked the directorial debut of Stanley Sheff, who later went on to direct the cult classic LOBSTER MAN FROM MARS.
The production of SINISTER FLESH was personally supervised by the famed showman and impresario Maxwell DeMille .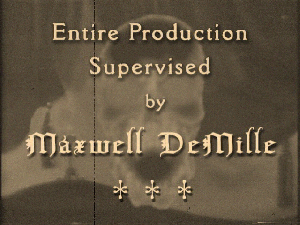 The original musical score was lost, along with the camera negative during a fire. A new score is performed by Dean Mora, known to many as the founder of the popular swing orchestra Mora's Modern Rhythmists. Mr. Mora plays the Mighty Wurlitzer Organ, located at the Old Town Music Hall.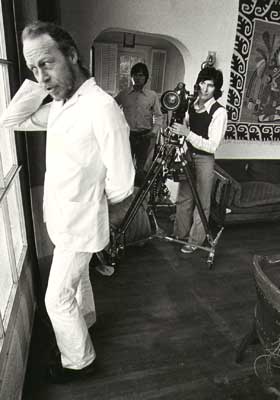 Stanley Sheff behind the camera as he directs Don Preston.
Based on the famous Ogo Moto character created by music legend Don Preston, SINISTER FLESH was a bold venture. No one had attempted to make a silent film for over 40 years. Sadly. when the film was initially released in 1974, the movie going public showed little interest in silent cinema.
Five years later, as part of a KROQ-FM radio station promotion, a special screening was held at the Pickfair Theatre (no longer in existence) in Los Angeles, California. Over 2,000 eager patrons were in attendance that evening, and the film met with great success. In the audience was the film's star S.D. Nemeth (Zit, The Hunchback) who was escorted onstage by two lovely starlettes. Writer-Director Stanley Sheff made a short speech thanking Maxwell DeMille for his great inspiration.
Today SINISTER FLESH is considered a cult classic, yet with an original running time of three hours and forty minutes, only 27 minutes currently exist. Fortunately this remaining footage has been carefully reconstructed and is now available for viewing.
Lackluster box office returns for SINISTER FLESH marked the end of Maxwell DeMille's cinema career. Today the ever young Mr. DeMille devotes his time to live stage productions and personal appearances.
Technical Details:
Original Release Date: June 1974
Original Running Time: 221 mins.
Restoration Release Date: January 2004
Restoration Running Time: 27 mins.
B&W with Sepia Tint
Silent with Musical Score